Who we are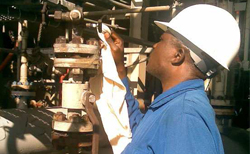 Absolute Project Solution (Aprosol) Company Nigeria Limited was incorporated in 2003 to provide Engineering, Procurement, Project Management, Manpower supply, Installation & Construction (EPC) and Commissioning services to Oil & Gas sector, and Industrial Infrastructural Client. We represent Fuji Electric S.A,S. France and Thomas and Betts Limited in Nigeria and sell their various products and services. Aprosol is operating from Lagos at the following addresses with the plan to have other offices in Port Harcourt, Warri and Eket in the nearest future.



7, Onikepo Akande street, off admiralty way, Lekki Phase 1, Lagos, (our head office) which is very close to all the Oil and Gas Producing Companies head offices in Lagos.


1, Akin Ogunmade Davies close, off Jaiyesimi Olumoroti street, Gbagada phase 2 Estate, Gbagada Lagos (our branch office).

Aprosol represent the following Companies in Nigeria as their distributor:


Thomas & Betts, manufacturer of Cable Glands, Cable Ties (Ty-Rap), Conduit, Cable Trays, Lightning Arrestor, Surge Arrestor, Emergency Lighting etc.


Fuji Electric, manufacturer of Transmitters and other Instrumentation measuring Equipment.

Aprosol have a considerable project experience in Downstream, Upstream, offshore and Onshore and this experience spread all over Nigeria locations. Over the years, Aprosol has been able to work in various part of Niger Delta area which is classified as a volatile area because of her useful local knowledge on Community relations. Aprosol Project experience could be further broken down as follows: manpower recruitment, Procurement, Project Management, Construction support, As-Built Documentation, Third Party Design verification, Engineering Consultancy, Installation & Construction (EPC), and Commissioning.

Aprosol is in partnership with Combined Engineering & Integrated Solutions (CEIS), one of SMEC Companies, an Australian Company based in Pakistan. This Company is highly experienced in Downstream and Upstream of Oil and Gas Engineering Design, Project Management, Construction Support and Commissioning.

Aprosol has a specialty in Instrumentation and Control, System integration and Process simulation but has proven capabilities in the following disciplines; Process, Civil, Mechanical, Piping, Pipeline and Electrical Engineering.
Our preparedness to expediently mobilize a high quality project team either at home base or at any other location in the region will ensure your project is off to an excellent start with an even better finish.
Company Vision
To be an indigenous benchmark for Engineering Companies in Nigeria
Company Mission
Building a reputable Engineering Team to produce top quality Technical deliverables to our Clients always